Planning your child's birthday party?
Host it at Whitford Family Centre!
In addition to our indoor area we have a large, full fenced outdoor area with play equipment and a sandpit.
You can relax knowing that everything is at your fingertips and all your little charges, are safe in our centre.
Whitford Family Centre will provide;
      15 Plastic cups, bowls and plates.  


      Plenty of tables and chairs for children and adults.
All for $110 inc GST for 3 hours!
Includes 30mins for setting up and 30mins cleaning up, leaving 2 hours of party time.
$50 refundable deposit payable when keys are picked up.
---
Need extra time?

You can book extra hours
at $25 per hour!
Drop in and see our venue during office hours
(Monday – Friday 9am til 1pm).
One of our team members can discuss your needs and ideas.
Click here for our Room Hire form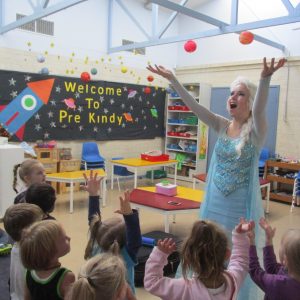 Five easy steps for making a booking
Contact our office, via phone or email to confirm if the party room is available.
Feel free to visit the centre any time to view the room (or view the photos below)
Download, complete and return Room Hire Application Form
Make payment via cash (at our office) or direct deposit.
          Once the form and full payment of the booking is received, your booking is confirmed.
 Collect the keys the week before your booking at our office, and provide the $50 cash bond.
 Return keys to our office the week following the party and collect your bond money.
Our Activity Room is big enough for all types of party games!
Or why not bring your own Clown, Magician, Fairy or other entertainer to fascinate the children!