Who We Are

Welcome to Whitford Family Centre!
We are a community-based facility founded in 1988 and offer  several different programs for children and adults, within the Hillarys and surrounding suburbs.  
We have a small team of friendly staff who are dedicated to provide a nurturing experience for your children's pre-kindy education, as well as experienced Administrative staff who ensure your involvement with Whitford Family Centre is an enjoyable one. 
The Whitford Family Centre is funded by the Department of Communities. The Centre is a non for profit organisation providing Pre Kindy Programs, Out of School Care, Toy Library, Play Group and many more child and adult based activities. The Centre offers information sessions such as First Aid, Parent Information Sessions, Cyber Safety, Child Protection and much more. We offer low room rates to small community groups and businesses for classes and meetings. Whitford Family centre proudly supports local charities.
Whitford Family Centre is licensed by the Education and Care Regulatory Unit and the programs comply with the Education and Care Services National Regulations 2012.
What We Do
Pre-Kindy for 2 to 3 year olds
Whitford Family Centre provides a Pre-Kindy program for children who are turning 3 years old. These programs support age-appropriate learning and help children develop their gross and fine-motor skills, language ability and cognitive processing. Click here to find out more.
Pre-Kindy for 4 year olds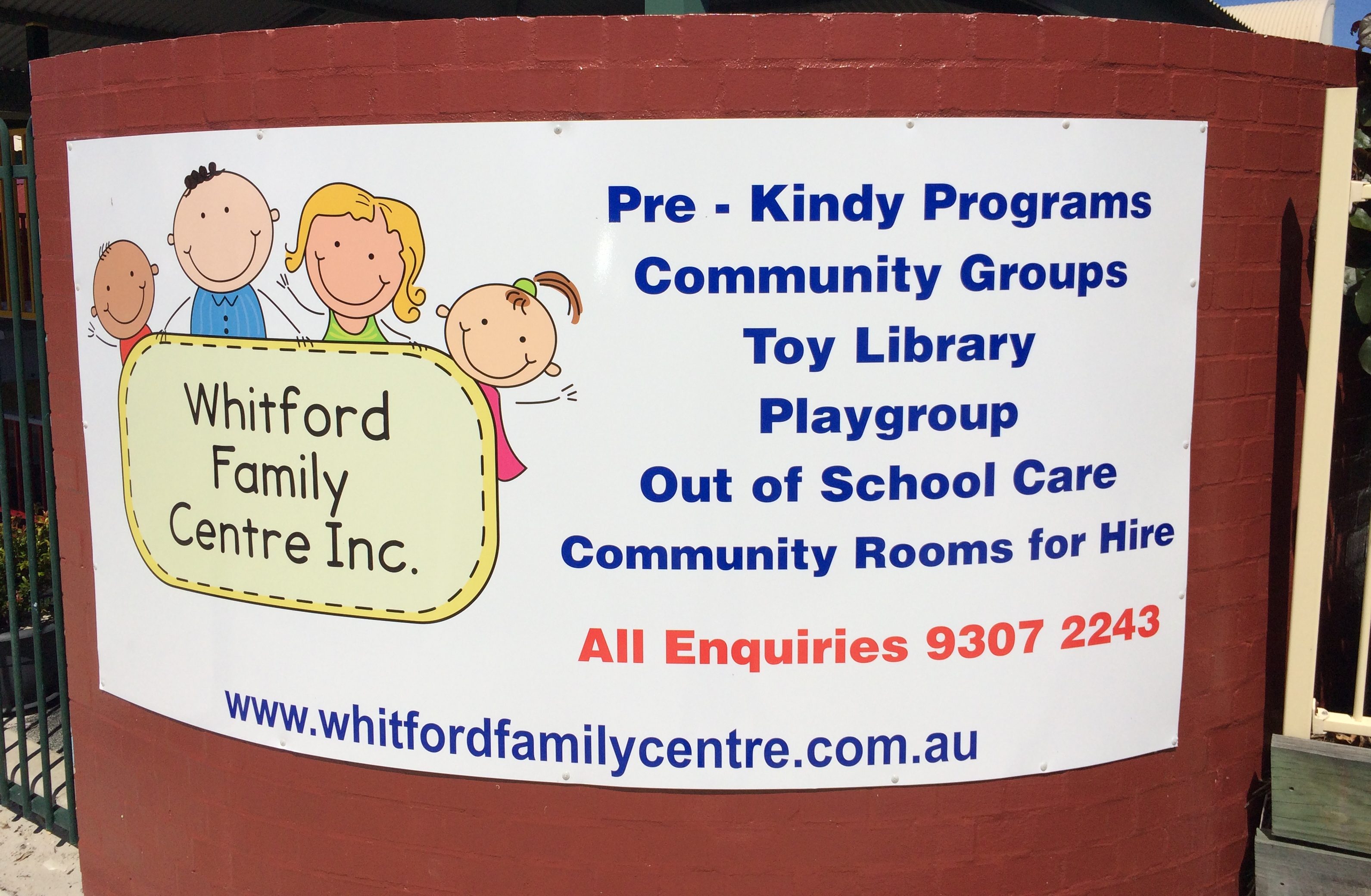 Our Team
Here at Whitford Family Centre we aim to offer a safe, home like environment which supports the individual needs of children and families. Our staff are dedicated to providing an inclusive curriculum following The Early Years Learning Framework which reflects the diverse values of children, families, staff and the wider community.
Our educators are an integral part of our team, with each educator dedicated to providing individual care in a supportive, nurturing environment. All staff currently hold a Diploma in Children's Services and Working with Children's check.
Next time you drop in, make sure to say hello to our friendly teaching staff. Everyone is always welcome at Whitford Family Centre!
Carolyn Halleen & Tracey Horrocks